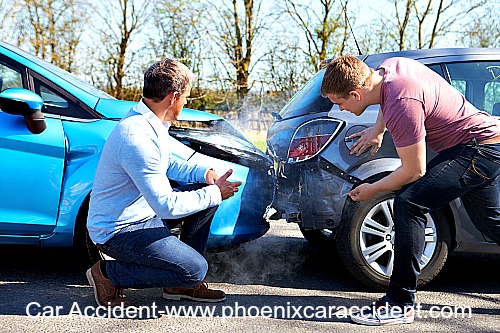 Best Practices Car Accident to do list:
When you are involved in a Phoenix Car accident we recommend the following listed below, but would also like you to know what not to do. First and foremost, do not reveal any information to third parties if you are unclear as to whether that information should only be discussed with your Phoenix auto accident attorney. The following is a general best practices list if you have been involved in a motor vehicle accident in Phoenix or surrounding cities of Arizona:
Best Practices to do and not to do list:
Remain as calm as humanly possible.
If you or anyone in the accident sustained injuries call 911 and ask for emergency medical help. Stay calm and answer all of the 911 operator's questions regarding your location, as well as any questions concerning the injured. Do not discuss any of the actions leading up to the accident. You will be recorded during this call.
Never leave the scene of the accident until you have filled out a police report and have obtained a copy from the officer at the scene of the accident.
You will need the other driver's demographics, such as name, address, phone number, driver's license, and insurance information, as well as the license plates of all cars involved. We suggest using your smart phone to take pictures of the driver's license, insurance card, license plates and damage to your vehicle as well as the damage to the other car(s) or vehicle(s) involved.
If possible, obtain names and demographics of any witnesses who can describe what they saw. If they will allow you to video tape those statements with your smart phone then do so.
Only discuss the accident with the at the scene police officer. Never declare fault and/or admit responsibility. Do not blame the other party; only discus your opinion of how your accident took place. Do not be rude to the officer at the scene of the accident. At the appropriate time, discuss everything with your accident attorney and he or she will speak on your behalf.
Best practices to protect your rights following a Phoenix car or motorcycle accident:
Draw a diagram of the accident scene, including notes, and give this to your attorney. Download one here.
Never allow a recorded statement to an insurance claims adjuster even if it is your own insurance representative, because adjusters may use specific strategies to reject and or deny your insurance claims during this emotional and very confusing time.
Never Facebook, Snapchat, Instagram or use any other social media as to the specifics of your accident since social media is considered public knowledge and can be subpoenaed and used against you. These types of facts should be discussed with your attorney which will be considered privileged information and therefore confidential.
Never agree to a settlement or accept a check with any insurance agency until your personal injury attorney negotiates it, otherwise your ability to be compensated for your injuries, pain and suffering, medical bills, and costs for personal property damages will be immediately terminated and final.
The personal injury and auto accident attorneys at Phoenix car accident dot com will provide you with experienced and knowledgeable legal representation and will aggressively seek the largest financial compensation possible. Call us now to set up legal consultation 602-456-7252.
@ 2023 All Right Reserved
Website Designed by Dr John Quackenbush